Resolve Through Sharing Bereavement Training: Perinatal Death THIS EVENT HAS BEEN CANCELED.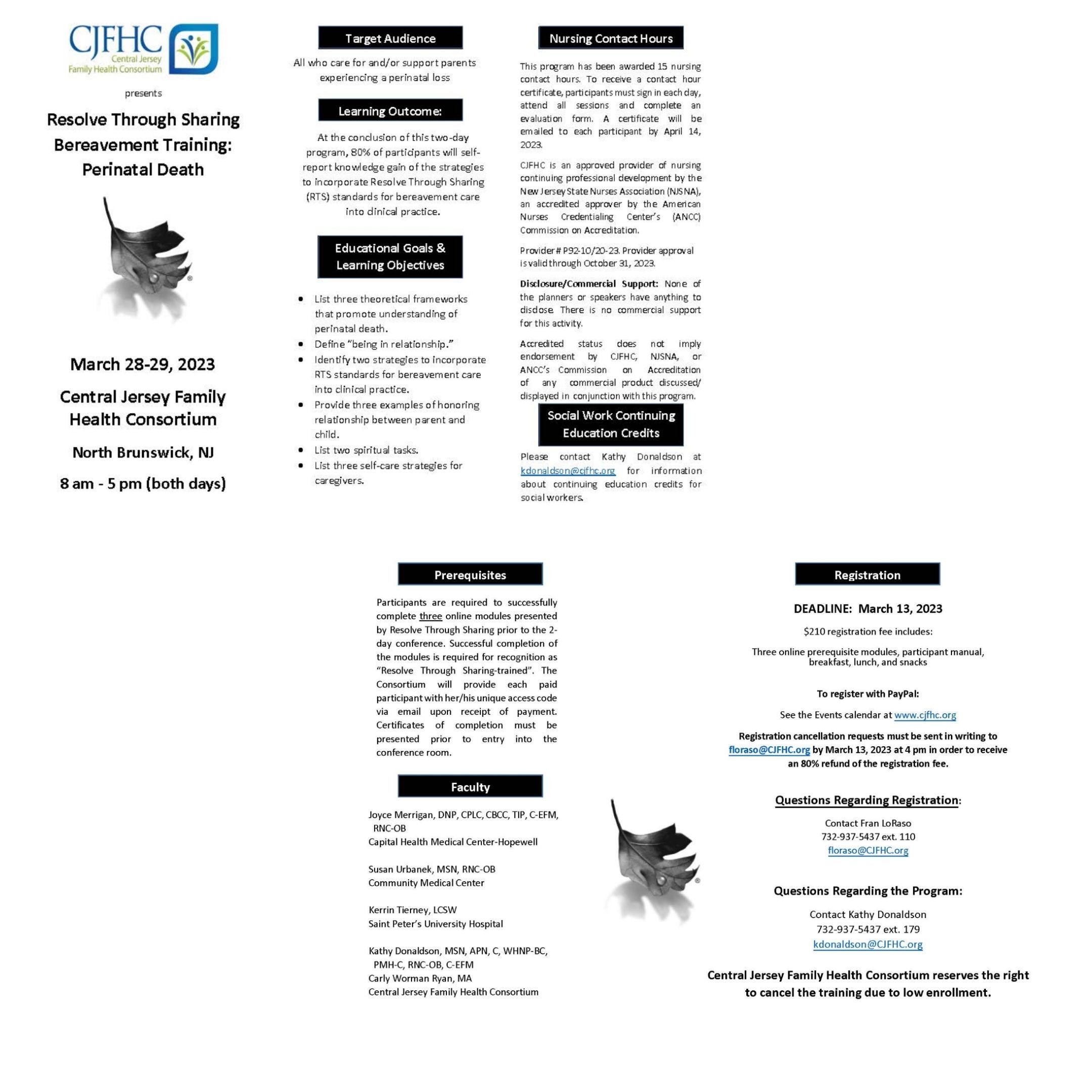 DEADLINE: March 13, 2023
Registration cancellation requests must be sent in writing to floraso@cjfhc.org by March 13, 2023 at 4:00 PM in order to receive an 80% refund of the registration fee.
Target Audience: All who care for and/or support parents experiencing a perinatal loss.
Learning Outcome: At the conclusion of this two-day program, 80% of participants will self-report knowledge gain of the strategies to incorporate Resolve Through Sharing (RTS) standards for bereavement care into clinical practice.
Educational Goals & Learning Objectives:
. List three theoretical frameworks that promote understanding of perinatal death.
. Define "being in relationship".
. Identify two strategies to incorporate RTS standards for bereavement care into clinical practice.
. Provide three examples of honoring relationship between parent and child.
. List two spiritual task.
. List three self-care strategies for caregivers.
Prerequisites: Participants are required to successfully complete three online modules presented by Resolve Through Sharing prior to the 2-day conference. Successful completion of the modules is required for recognition as "Resolve Through Sharing-trained". The Consortium will provide each paid participant with her/his unique access code via e-mail upon receipt of payment. Certificates of completion must be presented prior to entry into the conference room.
Nursing Contact Hours: This program has been awarded 15 nursing contact hours. To receive a contact hour certificate, participants must sign in each day, attend all sessions and complete an evaluation form. A certificate will be e-mailed to each participant.
CJFHC is an approved provider of nursing continuing professional development by the New Jersey State Nurses Association (NJSNA), an accredited approver by the American Nurses Credentialing Center's (ANCC) Commission on Accreditation.
Provider # P92-10/20-23. Provider approval is valid through October 31, 2023.
Disclosure/Commercial Support: None of the planners or speakers have anything to disclose. There is no commercial support for this activity.
Accredited status does not imply endorsement by CJFHC, NJSNA pr ANCC's Commission on Accreditation of any commercial product discussed/displayed in conjunction with this program.
For questions regarding registration contact: Fran Lo Raso, floraso@cjfhc.org, 732-937-5437, ext. 110