Perinatal Oral Health & Wellness: Empowering Women with Knowledge About Oral Health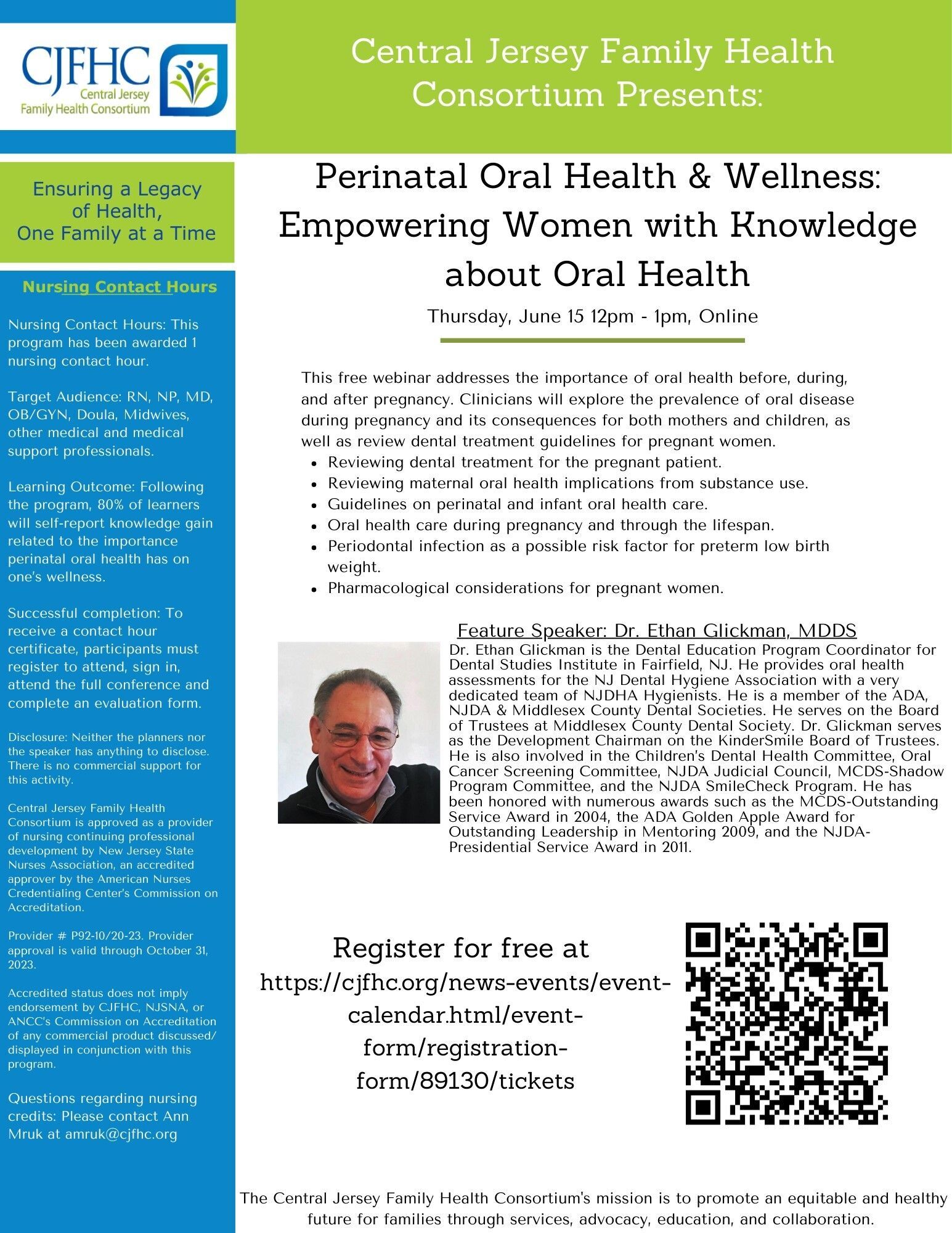 This course addresses the importance of oral health before, during and after pregnancy and it's consequences for both mothers and children, as well as review dental treatment guidelines for pregnant women.
* Reviewing dental treatment of the pregnant patient
* Guidelines on perinatal and infant oral health care
* Oral health care during pregnancy and through the lifespan
* Periodontal infection as a possible risk factor for preterm low birth weight
* Pharmacological considerations for pregnant women
Featured Speaker: Dr. Ethan Glickman, MDDS
Nursing Contact Hours: This program has been awarded 1 nursing contact hour.
Target Audience: RN, NP, MD, OB/GYN, Doula, Midwives, other medical and medical support professionals.
Learning Outcome: Following the program, 80% of learners will self-report knowledge gain related to the importance perinatal oral health has on one' wellness.
Successful completion: To receive a contact hour certificate, participants must register t attend, sign in, attend the full conference and complete an evaluation form.
Disclosure: Neither the planners nor the speaker has anything to disclose. There is no commercial support for this activity.
Central Jersey Family Health Consortium is approved as a provider of nursing continuing professional development by New Jersey State Nurses Association, an accredited approver by the American Nurses Credentialing Center's Commission on Accreditation.
Provider #P92-10/20-23. Provider approval is valid through October 31, 2023.
Accredited status does not imply endorsement by CJFHC, NJSNA, or ANCC's Commission on Accreditation of any commercial product discussed/displayed in conjunction with this program.
Questions regarding nursing credits: Please contact Ann Mruk at amruk@cjfhc.org.