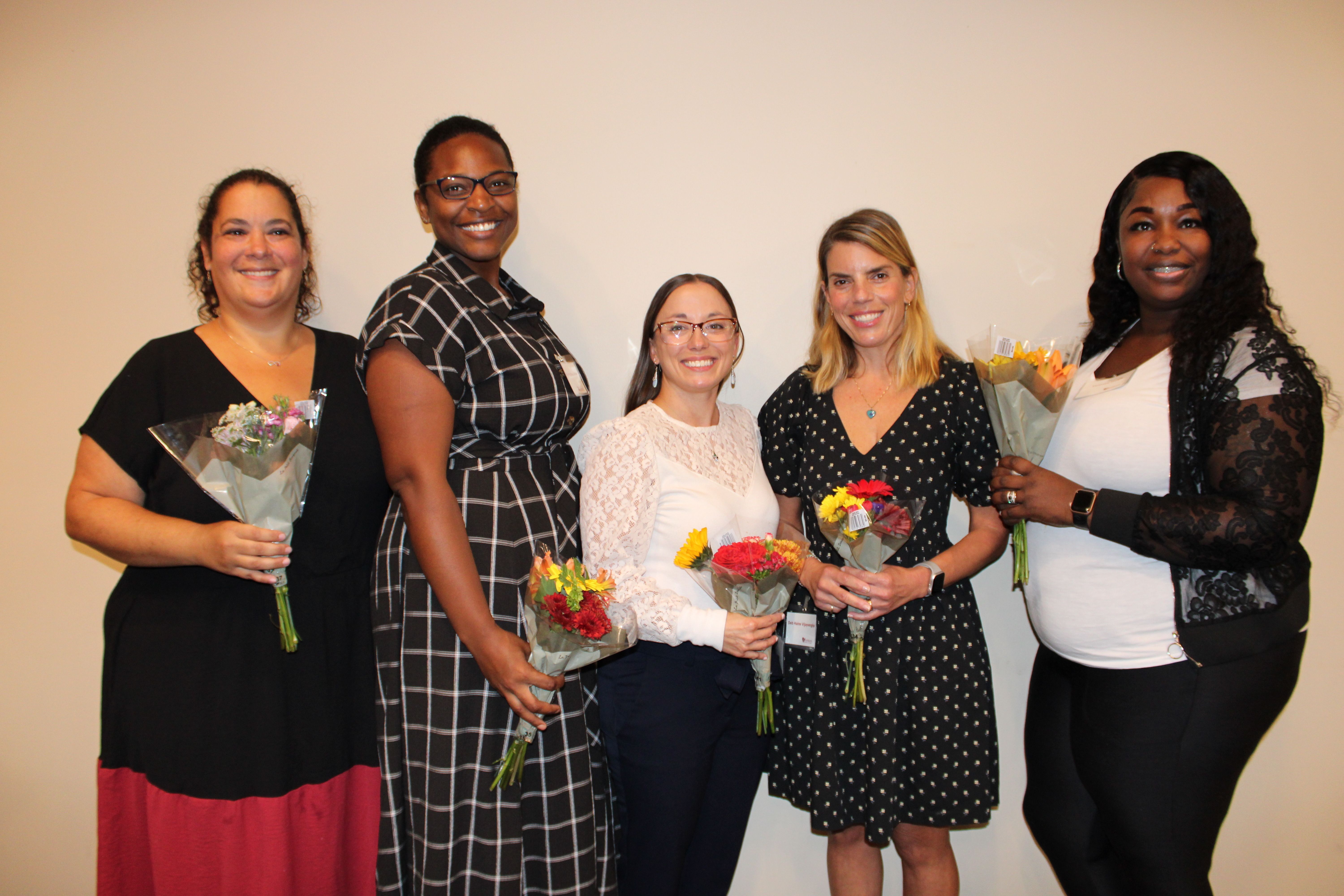 Marise Angibeau-Gray's pregnancy loss of her son Ellison in 2017 filled her with unspeakable pain.
"I became pregnant with him after experiencing two prior pregnancy losses. I just knew he was going to be my rainbow baby," she said. When she was 29 weeks pregnant with Ellison, she heard the words "there is no heartbeat." Her pregnancy with Ellison would be a stillbirth.
"It felt like my world had shattered into a million pieces. Those years were very dark and filled with unspeakable pain," Angibeau-Gray said. "Every day I was walking a fragile tightrope of mental and emotional survival."
A social worker at the hospital where she delivered her son offered her helpful tips and resources and with connecting to other parents who experienced stillbirths.
"One of the things that kept me waking every day was knowing that I was not alone," Angibeau-Gray added.
"One of the things that gives me courage to push forward is knowing that sharing my experience and wisdom I gained will help other families who need support. Resources, guidance, and togetherness have a massive impact on our resiliency and our ability to see brighter days ahead."
Angibeau-Gray's story is one of several stories being shared by mothers to inform the public about stillbirths for the Stillbirth: Can Happen to Any Pregnancy awareness campaign that officially launched inside Capital Health Medical Center – Hopewell in Pennington on Oct. 4.
"The American College of Obstetricians and Gynecologists [ACOG] defines stillbirth as a fetus that dies in the uterus after 20 weeks of pregnancy," said Ann Mruk, Director Professional Development and Education for Central Jersey Family Health Consortium.
"This is different than a miscarriage, which refers to the loss of a fetus prior to the 20th week of pregnancy. Approximately, 700 stillbirths occur each year in New Jersey."
The campaign, which is New Jersey's first statewide Stillbirth Awareness Campaign, has been in the works for a couple months.
"According to the ACOG and the Society for Maternal-Fetal Medicine in 2020, stillbirth is one of the most common adverse pregnancy outcomes in the United States and even more shocking is that every pregnancy is at risk for stillbirth, a vital message of our campaign," Mruk added.
According to the Centers for Disease Control and Prevention (CDC), about 21,000 stillbirths were reported in the United States in 2020 and stillbirths impact parents of all races and ethnicities. At the launch of the campaign, it was also highlighted that stillbirths impact people with different income levels and birthing ages.
Additionally, the CDC notes that an increased risk of stillbirths occur in individuals who are Black; 35 years of age or older; those who have had previous pregnancy; individuals of low economic status; have multiple pregnancies, such as triplets and quadruplets; certain medical conditions as high blood pressure, diabetes and obesity; and smoking cigarettes during pregnancy.
An important warning sign for people who are pregnant is a change in fetal movement.
Jackie Mancinelli and her husband began their family building journey in 2014. She had lost her first pregnancy to a miscarriage before becoming pregnant with her son Richard.
"Once we got past the first trimester, we began to dream about what our family would look like as a family of three. At 33 weeks and five days along, our lives changed forever," Mancinelli said.
"It was Monday, May 16, 2016, and I went to work as usual. During the previous weekend I had noticed decreased fetal movement and although I was nervous about it, I did not call my doctor to alert them to any concerns."
She described Richard as a very active baby who often did 10 kicks in five minutes. He had slowed to 10 kicks in one hour. Mancinelli thought Richard was fine since she had a healthy appointment a few days prior.
"However, while at work I went into preterm labor with Richard and he was barely moving," she added.
After work that day as a school teacher, Mancinelli went to the OB-GYN (obstetrics and gynecology) to monitor Richard's movements and when the nonstress were done Richard had failed immediately. She went to hospital for more testing, which resulted in her going into the operating room for an emergency C-section.
"Once Richard was born the entire operating room fell silent. I did not hear Richard cry. Instead, frantic resuscitation efforts were made and when I finally met my son and held him, he had already died," Mancinelli said.
She described the next weeks and months as a blur and that she could not get out of bed to do simple everyday tasks.
"Greving my son is a lifelong journey, but I am determined to channel my love for him into advocacy. I'm proud to be a part of New Jersey's Stillbirth Awareness campaign, because this is a resource I wish was available in 2016," Mancinelli added.
"It could have helped to save Richard's life. When his movements slowed, I could have recognized them for what they truly were – a call for help and a sign that he was unwell. I would have known to call my doctor immediately and get to the hospital."
She urged that if a parent or if someone they know are concerned about their baby's movement to speak up for themselves and contact their provider.
With funding from the New Jersey Department of Health (NJDOH) the awareness campaign is a collaboration between Partnership for Maternal and Child Health of Northern New Jersey, Central Jersey Family Health Consortium, the state's Maternal Child Health Consortium, and the Southern New Jersey Perinatal Cooperative.
Debbie Haine Vijayvergiya, a stillbirth parent advocate and mother of Autumn Joy, who was stillborn in 2011, and a family advisory board consisting of New Jersey parents, who experienced stillbirth, were also part of the collaboration.
"It has been 12 years, two months, and 18 days since my life came to a screeching halt," Vijayvergiya said.
"Four thousand, four hundred and seventy-two (4,472 ) days ago, I was thrust into any expecting parents' worst nightmare, when at a routine checkup I learned that my daughter Autumn's heart had stopped beating. Nothing can ever prepare you for the moment that your deeply loved baby lay lifeless inside of you."
She has since channeled her pain into activism and action as an advocate.
"None of this work is going to bring Autumn back, but what it can do is it can prevent others from having to suffer the same way I have all these years," Vijayvergiya said. "Stillbirth Awareness is at the core of everything that I do, because the first time someone hears about stillbirth should not be when it has happened to them."
There are four awareness campaign public service announcements (PSAs) that debuted where people hear directly from some of the state's mothers who have experienced stillbirth in their pregnancies.
The PSAs which are in both English and Spanish are designed to not only bring awareness, but direct people in the state to www.NJStillbirth.org, a new website that provides resources for bereavement support, also resources that are broken down by each region of the state and can be downloaded, and guidance for healthcare providers.
"The more we talk about stillbirth the less it can be ignored. I have been wanting to see a Stillbirth Awareness Campaign for a very long time here in our great state," Vijayvergiya added.
There is a plan for the coming months to have advocates and creators of the Stillbirth: Can Happen to Any Pregnancy awareness campaign to conduct town hall forums, informational sessions, and outreach programs for families and providers.
For more information on stillbirths, resources, and awareness, visit www.NJStillbirth.org.
Click here to read the article on CentralJersey.com.