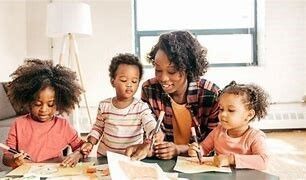 From the age of birth to 5 years, children go through a period of rapid and critical development. These first 5 years are critical for your child's language and literacy development, and their physical, mental, and emotional development. This sounds daunting, doing simple activities, like the free one provided below, and connecting with our early childhood specialist team, can help guide you through this time of critical development and give you the tools needed to support your child.

For more activities and resources like the one below, fill out the ages & stages questionnaire for your county to be connected to our Early Childhood Specialist Team.

This fun Fall & Halloween themed craft supports your child's development in multiple ways. Through the simple craft tasks of tearing, gluing and coloring, your child will strengthen their fine motor skills. Engaging with your child throughout this activity by asking them questions about the colors, images, and asking them to talk you through what they are doing will build strong language, literacy, and problem-solving skills.
Follow the activity support guidelines to engage and support your child's development:
Fine Motor (Strengthening the muscles in your child's hands)
Communication (Building the tools for language dialogue between caregiver and child)
Describing the colors and textures of materials
Providing new vocabulary like: orange, white, pumpkin, ghost, tearing, glue, crayons
Talking through the actions of completing the activity
Relating it back to fall and Halloween.
Reflecting on time spent together.
Personal-Social (How your child relates to you and their world)
Completing the activity together and engaging in quality time.
Problem Solving (Using their thinking to find solutions in their world).
Filling the template with tissue paper.
Allowing child to explore the materials.
Craft Materials
Additional materials not included:
Colored tissue paper

Make your own with water, food dye, and parchment paper.

Dilute food-dye in water and paint the parchment paper. Wait for it to dry completely before crinkling it up, cutting and gluing as desired.

Markers
Colored Pencils / Pens
Scissors
Glue Sticks or Tape.