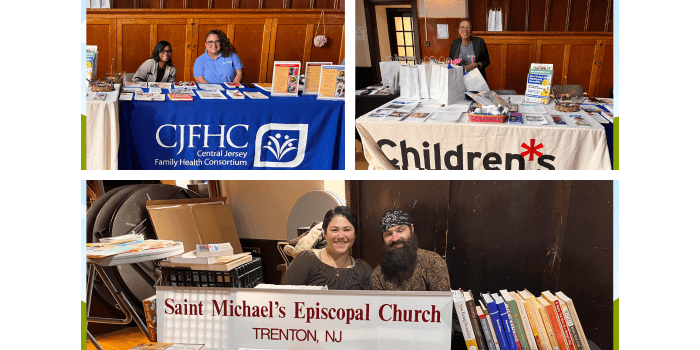 On Saturday, November 4,
Healthy Women, Healthy Families hosted a workshop for birthing people, their families, and alternative caregivers on how to navigate perinatal addictions, and support those who may struggle with addiction during pregnancy and after birth. The workshop also addressed how to support new parents in the postpartum journey and navigate the baby blues and postpartum depression.
The afternoon was a collaborative effort, made possible through the partnership with
Trinity Episcopal Cathedral in Trenton, NJ. It featured an array of guest speakers who brought their expertise and insights to the forefront of maternal and child health. Notable speakers included Perinatal Addiction Specialist Roseann Cervelli, M.S., LCADC, CPS, CCS, and Pregnancy and Parenting Wellness Program Manager Kathy Donaldson, MSN, APN, C, WHNP-BC, PMH-C, RNC-OB, C-EFM. Their presentations shed light on crucial topics, such as the impact of substances like marijuana, fentanyl, and alcohol on pregnancy and postpartum, as well as the emotional journey that new mothers experience during the postpartum period, including the baby blues and postpartum depression.
The event was not only an educational opportunity but also a platform for real-life testimonials. Representatives from Catholic Charities shared their personal experiences with addiction and motherhood, underscoring the positive impact services and programs, like Healthy Women, Healthy Families, have on the lives of women and children. "I get to be a good role model to my daughter," said one participant, "thanks to God, this program, and this community." Their stories served as a powerful reminder of the importance of equitable access to services and programs, and their impact on keeping families together.
A diverse array of organizations was present at the event, including Catholic Charities, Children's Futures, Connecting NJ, Prematurity Prevention Initiative, Prevention
Coalition of Mercer County, Saint Michael's Episcopal Church, and the New Jersey Department of Health. Global Grace Health of Highland Park, under the direction of Dr. Norma Bowe was also in attendance, providing Flu and Covid-19 vaccines for all in attendance. These organizations provided a plethora of materials advertising services and programs for families and children. This collective effort underscores Healthy Women, Healthy Families' commitment to improving maternal and infant health outcomes by bettering access to quality healthcare across the community.
Healthy Women, Healthy Families is closely aligned with First Lady Tammy Murphy's "Nurture NJ" initiative, which seeks to make New Jersey the safest state for giving birth. Their focus on education and resources for birthing individuals and their families exemplifies a shared commitment to the well-being of both the birthing parent and their loved ones. The program's dedication to these critical issues is a testament to the power of community collaboration and the pursuit of healthier futures for all.